Garage Doors Installation Leicester
We offer a fully comprehensive range of garage door services in Leicester and across Leicestershire. Our local, friendly team offers brand new garage door installations as well as garage door repairs. Our rates are competitive and affordable. There are too many styles of garage doors to mention, but our experts have the knowledge and expertise you need to fix every type of garage opening mechanism currently in use in the UK.
We offer accurate quotes for our garage door repair or installation services and you will be guaranteed a top-class service from Us. Our company has an outstanding reputation for our services. We don't outsource our work to others, so you will be getting the best quality service from our dedicated team.
For new installations, we will inspect your garage structure and recommend the best style of garage door. We will not only take into account your security but also aesthetics and ease of opening and closing.
For garage door repairs, we will examine the extent of the damage and tell you what would be involved in remedying the damage, or if your garage door is beyond repair. The costs of the spare parts and materials needed for your repair will be fully explained so you know exactly what you will be paying for.
When we replace your garage door, we will securely remove and carefully dispose of your door in an environmentally friendly way. We will make sure to cause as little disruption to your day as possible.
For all of your garage door needs, we are here to help! Do not hesitate to contact our team at Midland Garage Doors to discuss your needs.
Feedback from our clients
First class service from start to finish.End result looks great. Tony was a pleasure to deal with - friendly, knowledgeable and quick to answer any queries.
Well…. What a first class service. I had two garage doors fitted today and was completely blown away by Zack and Tony. They came, they cleared, they fitted & then took away the old doors. I would honestly recommend Midland Garage Doors without hesitation to anyone wanting to replace their old garage doors. What a difference they made.
Top quality garage door fitted by a Top quality tradesman. Excellent service highly recommend!
Communication, Service and Fitting was all of an extremely high standard. Tony and Zack were friendly extremely tidy. I'm really happy with my electric garage door, weather sealed, remote control and looks great. Had it fitted last week and glad I went for it.
Tony did a great job, the finished door Looks fantastic and they also made adjustments to the opening to create more space at no extra cost. Everything explained thoroughly and no mess from the job was left. 10/10.
We had a new garage door installed by Midland Garage doors. We are extremely pleased with the work that Zak and Danny did for us. We would highly recommend this company and we will definitely be using them again.
A+++ fantastic service, great craftsmanship, very tidy job. Will high recommend. Thank you Tony and team.
Really pleased with our new door. Quoted , fitted at a good price. Good quality and friendly service . Highly recommend
Perfect no nonsense and professional service from start to finish, highly knowledgeable and friendly company. Craftsmanship was excellent would recommend to anyone.
Great team of guys , responded swiftly and got the job done on time , clean and a perfect finish
Schedule a complimentary, no-obligation home assessment today by getting in touch with us.
GARAGE DOORS SERVICES IN LEICESTER
Garage Door Company Leicester
We know that there is a lot more to choosing the perfect new garage door for your home than just picking one that looks good. Garage door technology has advanced a lot over the past few years meaning you have a larger choice of door style, material and operation than ever before.
Whether you prefer steel, wooden or aluminium garage doors – or you simply don't know which material would be better for your needs, you don't need to worry about making the right choice because we are here to help you!
Please feel free to get in touch with us today, and you can talk with one of our expert team about the benefits and limitations of all types and styles of garage doors so you will be able to make an informed choice about a garage door that will serve you and your family well for many years to come.
You also have a choice about the style of garage door you want, whether that's a side hinged garage door, sectional garage door, roller garage door, up and over garage door or a canopy up and over door. Our Garage Doors Company in Leicester carry a complete range of high-quality doors and will happily explain how each style of door works.
No matter whether you have just built an extension to your home that includes a garage, or you need a new door to replace an old garage door that is beyond repair. Our friendly and experienced team can take a look at your garage and make the best recommendation based on your needs.
Types of Garage Doors
We offer the very best in stylish garage door designs that not only look good but also offer an extra layer of security to your home. We offer the latest in garage door technology and smart design. Our range includes:
Canopy up and over doors
Sectional garage doors
Side-hinged garage doors
If you are not sure which garage door style you should choose, then do not hesitate to get in touch with us.
Our friendly and knowledgeable team will be able to advise you on which type of garage door would best suit your needs, no matter whether you are looking for a garage door that is easier to open and close than your old one, or you want a completely different style to make your home look more appealing – we are here to help you!
You don't need to make a like-for-like garage door replacement. If you had an up and over canopy style door, but a side-hinged door would be easier for you to open or would help to make your home look smarter, then our team can help you choose a different style garage door that could give your home a brand-new look and improve its curb appeal.
We specialise in the installation of many different styles of garage doors, but in recent years one of the most popular styles with our customers is the roller garage door.
This comes as no surprise to us as roller garage doors are slimline and very elegant, meaning that those customers looking for a very aesthetically pleasing garage door will often choose this style over other options.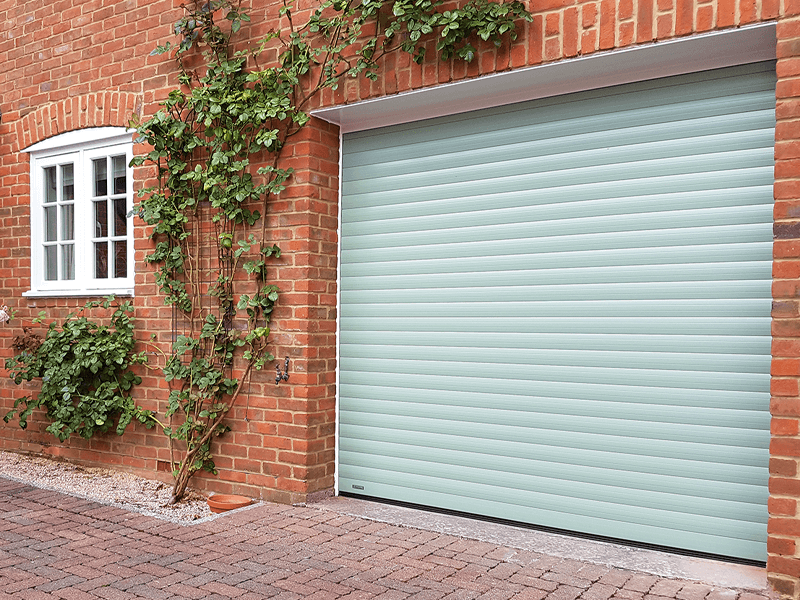 Electric Garage Doors
Midland Garage Doors is your premier choice for high-quality electric garage door installation and repair services in Leicester and the surrounding Leicestershire area. Our local team offers a wide range of styles and designs to complement your home and suit your needs.
We provide expert guidance on selecting the ideal electric garage door system, including remote controls and smart home integration. Our skilled technicians also deliver prompt and reliable repair services to ensure your door operates smoothly and efficiently.
Choose Midland Garage Doors for competitive pricing, outstanding service, and customer satisfaction.